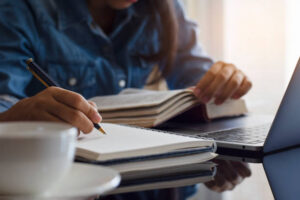 Introduction
Are you about to start working on planning your Ph.D. thesis writing? If yes, you must know that forgetting about the research methodology can badly harm your thesis. The methodology is an important part of research where you talk about the chosen research methods and the reason behind their choice. Choosing a research methodology is also on challenging thing. It is because the whole of your Ph.D. thesis writing depends on the successful selection of a research method. Also, it is ultimately the research methods that yield results. Therefore, you must be careful about choosing a methodology.
Many students underestimate this section. They think they can also use the methodology that previous researchers have used. Such students fail badly in their Ph.D. thesis writing because of this underestimation. It is why today's article is all about choosing a methodology that is a fit for your thesis. There will be a mention of all the points that can help you in this matter. So, let's start our discussion with the following question:
How to choose the best research methodology?
Conducting perfect research is the requirement of a Ph.D. degree. Choosing the right research methodology is one step that you take to fulfill this requirement. So, you must select it after considering some factors. A brief description of all those factors is as follows:
Nature of your research
The first and the most important thing to do is determine the nature of your research. You must know whether it is a quantitative, qualitative, or mixed-method study. Knowing this is very important because every research type has its own set of methods that you can use. The research questions, aims, and objectives also come under the nature of research.
Norms of the research area
Norms of the research area mean that you should also consider the approaches that are being used in that particular area. To do so, you should read and explore the previously published material. Reading that material lets you know the hot methods that other researchers are using to research. Please note that doing this does not mean that you should also follow the same herd. You should read the already published material to get an idea of the methods.
Practicalities of the methodology
Every research methodology is not perfect for every kind of research. A methodology may be hot in your research area, but it cannot answer your research questions. There are some practical hindrances due to which you cannot use that methodology. Therefore, it is important to consider the practicalities of the methodology when choosing it. Otherwise, using a research methodology will be of no benefit no matter how popular it is.
Conclusion
A research methodology is the element of a Ph.D. thesis that answers all the research questions. It fulfills the research aims and objectives. Therefore, you must be careful in choosing it. The steps mentioned above can help you a lot in searching for a suitable methodology. Therefore, read this article with full attention.